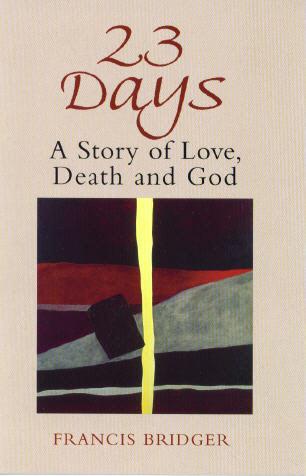 23 Days
A Story of Love, Death and God
Francis Bridger
978 0 232 52576 2
Paperback
|
128 pp
|
198 x 126 mm
Francis Bridger explores his journey in the fourteen months after his wife's very sudden death. A thought-provoking theological reassessment of the reality of grief.
In March 2003 Francis Bridger lost his wife very suddenly to cancer. In twenty-three days, Renee went from diagnosis to death. This tragic and untimely ending had a devastating effect on Francis, and the resulting feelings of loss and abandonment threw up profound spiritual questions which the insights of years of pastoral care and theological training could not contain.
Here, he explores his journey from that immediate time of crisis to the present. He shares extracts from his journal which show the daily struggle with emotions that often threatened to overwhelm. The book also includes letters to a close friend that show how he faced his struggles with God.
23 Days: A Story of Love, Death and God gives no easy answers, rather a frank acknowledgement of how difficult are the questions that arise at these times of deepest need and suffering. It will offer help to other people of faith experiencing bereavement, as well as all those involved in pastoral care and counselling for the bereaved.