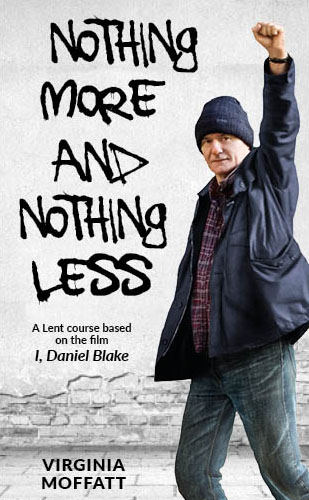 Nothing More and Nothing Less
A Lent Course based on the film I, Daniel Blake
Virginia Moffatt
978 0 232 53344 6
Paperback
|
128 pp
|
178 x 110 mm
---
978 0 232 53345 3
eBook
|
128 pp
** Suitable for online learning and study **
Nothing More and Nothing Less is a new and original Lent course by Virginia Moffatt, which uses the powerful, multi-award winning film I, Daniel Blake, directed by Ken Loach and written by Paul Laverty, as an opportunity for us to question why so many people in our society are suffering, what causes injustice and oppression – looking at examples from Jesus' time as well as today – and what we can do in response.
The course is based around five weekly group sessions entitled:
• Systems of Oppression
• Staying Human
• Compassion in the Darkness
• Fighting Back or Giving In?
• The Suffering Servant
Each session includes suggested clips from I, Daniel Blake to watch as a group (with timings for a DVD or film download), reflection points and discussion starters, a suitable Bible reading and prayers, and a short section of suggestions for ways in which course members could make a positive practical response.
Virginia Moffatt worked in social care for thirty years and is a writer, editor and former director of the Christian think tank Ekklesia.